The Walking Dead
Fri 29th March 2019
Company News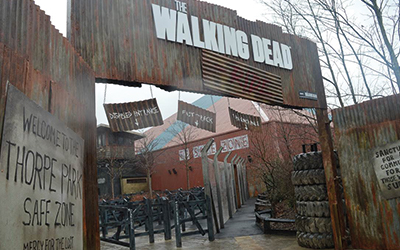 From this weekend on, be careful at Thorpe Park UK as the Walkers made their entrance in the new coaster The Walking Dead: The Ride. Scruffy Dog had the great honour to provide their turn-key services, under the creative lead of John Burton, to Thorpe Park in order to make the terrifying TV show come to life. Throughout the development of the coasters theming, Scruffy Dog worked alongside Merlin Magic Makers creating the story, the narrative for all spaces, the theme book and the visual content. Afterwards, the theming elements were manufactured by the Scruffy Dog team in the Birmingham workshop and moved to Thorpe Park to finish up with scenic treatment and the theming process. We are happy with another successful cooperation with Merlin Entertainment and can only hope many will follow. Furthermore, we would like to congratulate Thorpe Park on the first The Walking Dead themed roller coaster in the world and hope it will become a screaming success!
With over 30 thrilling rides, attractions and live events, THORPE PARK Resort is an Island like no other and the UK's must-visit destination to share endless fun with friends and family.
We will meet you at the Safe Zone…For the first time ever, experience The Walking Dead: The Ride. Those who ride…survive! Then enjoy world class rollercoasters such as the iconic Stealth, one of Europe's fastest and tallest rollercoasters, thrilling physical effects and intense action on Derren Brown's Ghost Train: Rise of the Demonand the UK's only winged rollercoaster THE SWARM.
Based on the comic book series written by Robert Kirkman and published by Image Comics, The Walking Dead reigns as television's most watched drama for adults 18-49 for the last six years. The Walking Dead tells the story of the months and years that follow after a zombie apocalypse, and follows a group of survivors, led by police officer Rick Grimes, who travel in search of a safe and secure home. The series is executive produced by showrunner Scott M. Gimple, Robert Kirkman, Gale Anne Hurd, David Alpert, Greg Nicotero and Tom Luse.
To find out more click here