Playing a crucial role in preserving history and culture across the past and present, Museums can range from highlighting a community's history, giving information on the functionality of a business, or even offering something as simple as edutainment and a fun day out for those interested in learning about history and culture. The design of a museum is an important factor when it comes to providing an educational and immersive experience with there being 5 key factors to designing a museum.
What Is the Purpose of a Museum?
The first thing to factor in when designing a museum is the mission of the museum. What is it's purpose? Is it to provide an educational hub for visitors to learn about the history and culture of an area, to showcase local art, or to provide information about your organisation? Whether it be for edutainment, culture or something else entirely, once you know your mission, our museum design solutions team can design an immersive experience bound to provide an exceptional overall visitor experience.
Considering your Audience
The second thing to consider is who your audience will be. Are you designing a museum for children, adults, or both? Each group will have different needs and expectations, so it's important to tailor the design accordingly. It is also important to design for an inclusive audience. For example, you will need to ensure that you have wheelchair access so that everyone can access the museum. Detailed planning in this area is so important in ensuring your museum is a roaring success, and that you capture as wide an audience as possible. At the end of the day, a museum is designed to provide an educational visitor experience and you should always look for ways to create a positive environment within which your audience can interact with your educational exhibits. If edutainment is your goal, visitor experience should be your foundation.
What Exhibits & Displays Do You Want to Display?
The next thing to keep in mind is what types of exhibits and displays you want to include. Do you want hands-on, interactive exhibits, or would you prefer more static ones? Interactive exhibits are garnering more and more acclaim and look to be the future of museum design due to the high quality of visitor experience they provide. Many interactive exhibits look to make use of cutting-edge technology such as augmented reality to provide an immersive experience. By considering the types of exhibits you want to include will help you determine the layout of the museum. Once this has been decided, our museum design team can help you visualise these exhibits. Through high level concept art, flythroughs and illustrative master planning you will watch your museum come to life.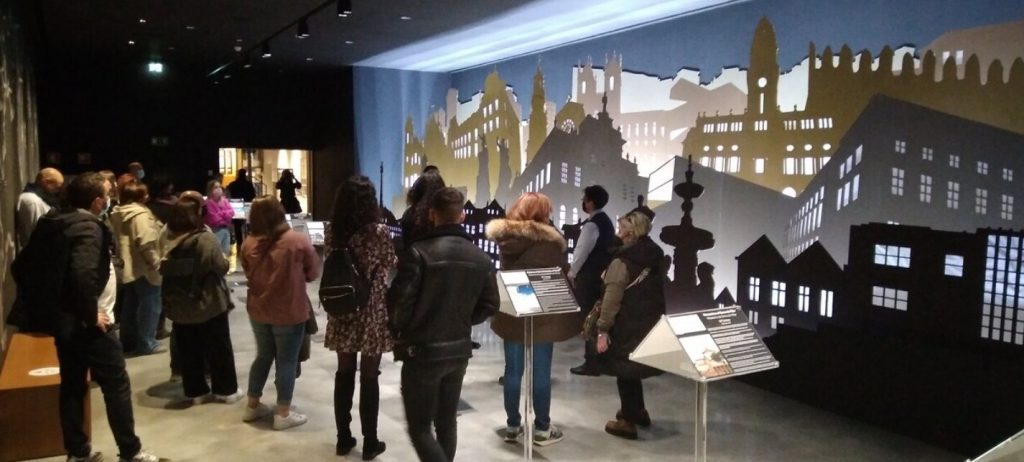 The Flow-Through the Museum
Another thing to think about is how you want visitors to flow through the museum. Do you want them to follow a specific path, or would you prefer they wander freely? Will there be one main route through your museum, or will there be multiple paths? Taking the time to map out the flow of traffic will help ensure a smooth and enjoyable experience for visitors. Our museum master planning team are experts in this area and can help design your museum to ensure the optimum circulation is achieved.
Additional Facilities and Support
Visitor experience is key when designing a museum, making the consideration of additional facilities such as toilets, changing rooms, lockers/coat storage, as well as restaurants and cafes an absolute must. Without these facilities, focusing on the educational aspects of your museum may be more challenging for visitors especially those with younger children or additional requirements. Please also note that some more complex visitor experience facilities such as augmented reality or interactive exhibits may require backroom support or tech assistance within close proximity.
Designing a museum can seem like a daunting task, but keeping these five things in mind will help you create a successful layout. With careful planning, you can design a museum that meets the needs of your visitors and supports the educational mission of your organisation.
Contact Scruffy Dog for Museum Design Services
For museum design solutions that will help your museum ideas get off the ground, get in touch with our museum design services team at Scruffy Dog today. Click here to fill out our 'Contact Us' form, give us a call at 020 3468 4220, or drop us an email at info@scruffydogltd.com.